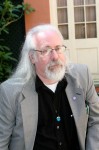 Evan is one of the other authors under my publisher's imprint and I really enjoyed his work, so I asked if I could interview him. Here is what he had to say:
So, your book, American Blues, was recently published by Holland House books, is that correct? Can you tell us a little bit about how that came to be?
Pure serendipity. I saw one of the publisher's, Robert Peett, posts on Facebook, contacted him — somewhat tentatively, since what he said interested him literarily — jazz in particular — didn't include short stories. But I sort-of pitched him, he asked for a sample and liked what I sent. And we went on from there. It took about 18 months but, at long last, it has happened!
I take it you're an American? Were you surprised to be picked up by a publishing house in the UK?
I am indeed an American. And I was indeed stunned, both when Robert asked to see the book and when he accepted it. I never imagined a non-US house would be interested in what is a very American-themed book.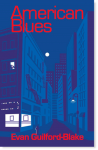 You seem to focus mostly on short stories. American Blues, for example, is a series of short stories, isn't that right?
Yes. Several of the stories are connected via locale and/or references to places. I like the short story as a form, though to be frank, I kind of feel like Kafka's statement: "I consist of literature and am unable to be anything else." What I write matters less than that I write.

Have you written any full length novels? Or do you plan to?
I've finished three novels. One, Noir(ish), is a comic mystery that Penguin published in 2012. The others — one adult literary fiction, the other a middle-grade fairy tale — are looking for homes.
What about plays?
Oh yeah. I've written about 40 of varying lengths and styles. Thirty are published.
What inspires you to write the things you do?
Most of the time what I write attacks me and forces me to write it. I rarely choose what to write, and a lot of ideas get abandoned along the road. I have, for example, half a dozen unfinished novels on which I've written anywhere from 10,000 words to 120,000. It's likely most or all of them will never be finished, but… I consist of literature and am unable to be anything else. And I'm not interested in being anything else.
I remember thinking your work was a little bit on the Steinbeck side when I read it. Have you ever been compared to other writers?
Various of my work has reminded people of other writers'. (Oddly, perhaps, since I like him a lot, Steinbeck had never been one of them.) Among them: Scott Fitzgerald, Bradbury, Lynne Sharon Schwartz, Joyce (the ultimate compliment, in my book), Carver, Langston Hughes. Even Borges. They've all influenced me one way or another.
How long did it take you to write American Blues?
Oh, lord. Three of the five stories began life as plays. I wrote the stage version of Nighthawks in 1992, and The Easy-Lovin' Blues and Tio's Blues in the mid- and late '90s. The story adaptations went fairly quickly, about two or three months each; I wrote them over the course of a couple of years or so, in 2008-10. Animation took several months in 2009. Sonny's Blues was the "easy one": I finished the first draft in three weeks.
Were you ever startled or surprised by the actions of one of your characters?
I'm almost always surprised by their behavior. It's like Diane Arbus said of her photos: They always turned out differently than she expected. Some were better than her expectations, some were worse, but they were always different.
Marketing is the hardest part of writing a book, for me. What part do you think is the hardest?
Marketing, definitely. It's a time suck and an energy suck and a creativity suck. I hate it, but I know it's an essential component of the process. That doesn't stop me from yearning for the good old days when you wrote a book and the publisher did damn near everything else.
I did read this prior to release, and I really enjoyed it very much. Describe the book to me as though I have never read it. What things would you want most for people to know about it?
I think Robert's cover blurb does an excellent job of defining it. He says "The Blues are rooted in the American mind and soul. Each era has its own, and each is both the same and different, just like the people who know them, and play them, and live them. Here are five powerful stories exploring that mind and soul as they've evolved over the last seventy years."
Where can people find American Blues for sale? Will it be in electronic and paper formats?
Robert is issuing in hardcover, trade paper and electronic editions. All will be available on Amazon.com/Amazon.co.uk. I'd hope, however, folks who want a print version would order it from their local, independent bookstores. Not only will it save them shipping charges, but supporting indie stores is the best way to keep them in business so writers like you and I can actually get our books published in print. E-books are fine, but they don't smell nice. (And besides, I actually like turning pages by hand.)
What are you working on now?
Oh, forty-seven different things. I'm arguing with myself about which novel to pursue, I have two short stories that "need" to be written for specific markets, and one of these days I need to go back and finish a play: I've been so wrapped up in fiction this year that my dramatic output has consisted of one ten-minute piece of fluff.
Do you have a website or a blog people can visit?
My website is guilford-blake.com/evan. It has info about most of my plays, but it's badly in need of a major update. My Amazon author page has much more current info, especially regarding my non-dramatic work. The link goes on forever; anyone who's interested should just type my name into Amazon's search box. (I did that. You owe me one, Evan. Evan's Amazon Page is HERE.)
Anything else you'd like to mention?
I care about my writing. One of the things I try to do is write material that will mean something to its readers, whether they are today's or the readers of a hundred years, a thousand years, from now. I'm not Shakespeare or Austen or Issa by a long shot, but my goal is, I think, what theirs was. To create something that will endure and affect people as long as there are books.
Thank you, Evan, for letting us know more about you! I am looking forward to having my very own copy of this one! I hope some of my readers will look into it as well.