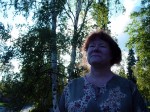 Meet Lela Markham, a writer I know from Authonomy, who will be publishing her fantasy novel soon. I interviewed her about this, and here is what she told me:
Your book, The Willow Branch – Book One of the Daermad Cycle, is coming out in October. This is the first in a series, obviously. How many other books will there be?
Epic fantasy series authors tend toward long-arc storytelling. The Willow Branch started as one really long book that I decided to break into a trilogy, but I ended up with five books drafted and already written material for about half of each.
So, the squishy answer is four books, but probably the series will get longer as I flesh out the later books because I've discovered that Daermad (the world where the Willow Branch takes place) is a lot larger than I originally thought. Continue reading →